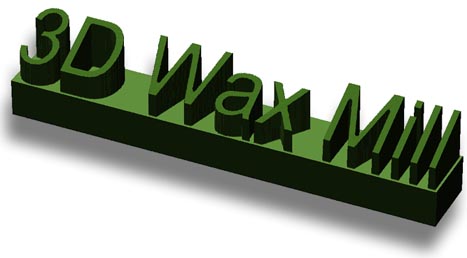 3D Wax Mill Home
The 3D Wax Mill system includes a Multi-Media training CD that will step by step instruct you in the basic use of the programs described below. In a few short hours you will be able to produce a wax model that would be impossible or near impossible to hand carve. The wax models you will be able to create will open a whole new profit center for your business and you should realize a quick return on the investment that you made in the 3D Wax Mill System.
Below are screen shots that represents five projects that were all designed with 3D Engrave, the tool path to mill the wax calculated by Modela Player and a 3d rendering created by Virtual Modela. The wax models were then cut with our 3 axis mill. These programs are bundled with two others which are include in the price of our system.
3D Engrave uses 2D graphics or bitmaps to generate a 3D relief model. Importing a PIX file from a 3D scanner is also available for creating 3D designs. The models can be viewed in complete 3D and have user-defined resolution settings to determine the final detail.
Modela Player quickly imports your design and prepares for milling. To begin, set the model's scale and milling direction from the tool and material libraries in the software. Next, select the size and type of materials to be milled. MODELA Player automatically sets the best milling parameters based on the materials you choose. Additional tool parameters will also come with the system to enable the use of end mill as small as .005 inch. Then click start. That's all there is to it. Your ideas are quickly transformed into reality.
Virtual Modela enables simulation of finished 3D models and accurately estimates machining production time. Lighting effects, material color or bitmap overlays can be added for accurate finished product representation. Access can be directly achieved from 3D Engrave, MODELA Player or from import of a PRN file.
The 3D Wax Mill is compatible with all the most popular jewelry design programs.
To view a few of my other projects click on the following links. 1 2


Acquire or import a company logo, image or text and create a lapel pin, charm or the top of a ring with the same detail as the professionals that specialize in corporate jewelry.

Click on images to enlarge and to read a description of the screen.

Put a unique shape stone in your flat bed document scanner, import it directly into 3D Engrave to make custom bezel designs.

Click on images to enlarge and to read a description of the screen.

Make prong tops for large center stones with diamond of any size around the out side.

Click on images to enlarge and to read a description of the screen.
Dr. PICZA Scanning Software and 3D Engrave to create a ring top.
Dr. PICZA Scanning Software features a dynamic graphic display and diverse editing functions. Dr. PICZA features control functions such as scan pitch and area settings, plus numerous editing functions including a handy convex/concave inversion function for making molds, a mirror function for creating symmetric data, a tilt adjustment function, curve smoothing, and a function for adjusting the height of surfaces. A preview function lets you check the image from any angle using a wide frame. You can even display color and texture renderings. PICZA scanning data can be stored in its original format, or exported in DXF, IGES, VRML, or as Point Cloud data (ASCII).

Click on images to enlarge and to read a description of the screen.
To view a few of my other projects click on the following links. 1 2

For more information call
713-775-4033

3D Wax Mill Specifications
and Price



See my Design Gallery at www.dreamgold.com
© 2003 - 2004 all rights reserved