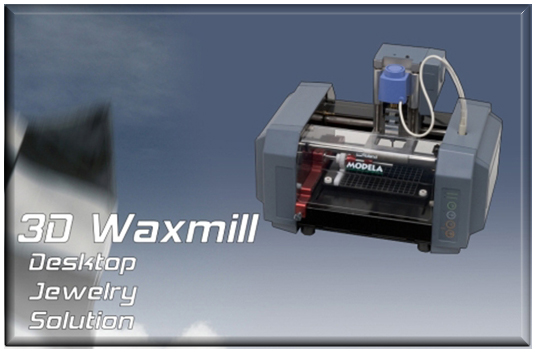 ABOUT 3D WAX MILL CAD CAM JEWELRY DESIGN AND MILLING
My name is Jeff Dunnington and I developed The 3D Wax Mill CAD/CAM Jewelry Solution. I am a Master Jeweler with 40 years of jewelry design and jewelry manufacturing experience. I have used the 3D Wax Mill to design Jewelry in my retail jewelry store for the past 7 years and have introduced and trained several hundred jewelers in the operation of the 3D Wax Mill Jewelry CAD CAM Solution.
3D Wax Mill is a hybrid CAD and CAM Jewelry Design and Wax Carving System. It is special because, it is a bridge between the world of hand wax carving to, the other more complex and expensive CAD/CAM jewelry design systems. It is also the most affordable jewelry CAD/CAM system available at only $4900.00.
The 3D Wax Mill carves items in 3 axis. However, I have designed The 3D Wax Mill Rotary attachment that lets you carve wedding bands, eternity rings, shanks and much more in a continuous 360 degree rotary motion.
Clients of 3D WAX Mill have mastered the simple 2d-3d software to create raised relief. Fabricating a relief as you would fabricate a piece of jewelry. Draw a simple flat shape in the 2d screen then apply thickness,height and contours to that shape to make it 3d. Sometimes you may need to create multiple component waxes to complete a fully 3d design just as you would if you were hand fabricating a piece of Jewelry.
The 3D Wax Mill Jewelry CAD CAM Solution includes, the Roland MDX-15 mill, touch probe scanner, a Video training CD that will, step by step instruct you in the basic use of the bundled programs, the 3D Wax Mill Rotary attachment, 8 micro carbide end mills, customized milling parameters for milling Jewelry, Sample designs, and membership to our private forum "The 3D Waxmillers Club".
The 3D Waxmillers Club has become an invaluable resource for the use of the 3D Wax Mill. The topics covered and questions answered will introduce you to new CAD Jewelry design process and CAM Wax milling techniques from Jeff and the other talented members. Each of the members have developed their own style and techniques rooted in their abilities as Jewelers, Designers and Craftsman. See the results of using this CAD CAM Jewelry Design system in our CAD Jewelry Design Gallery
In a matter of hours, with the video tutorial and simple introduction information a client can design and mill a jewelry wax with out even opening the MDX-15 users manual.
If you visit the 3D Wax Mill Gallery You can see over 600 finished jewelry designs all done with the 3D Wax Mill Jewelers CAD CAM Solution that cost only $4900.00
I have passionately developed this solution for the past 7 years to give jewelers the opportunity to get into Jewelry CAD/CAM with out breaking the bank, and also gives them the ability increase productivity and produce high quality precision waxes not possible to do by hand. If you read the comments from the members of the 3D Wax Mill Club you will see that I am dedicated to the success of all my users. Because of the low cost and ease of use, the 3D Wax Mill will have a much faster return on investment than any other systems on the market.

With 3D Wax Mill you are not just buying a MDX-15. You are investing in a complete Jewelers Solution and your success. No other Roland dealer can support you as a Jeweler or make Jewelry like you will see in our Gallery.